Adidas Commander TD Low 4 available at Toby's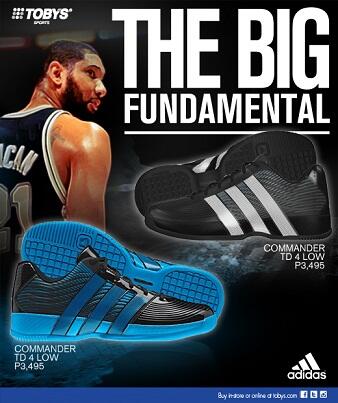 Hi everyone. Sorry, I know haven't made a post for a long while, as I have been very busy doing my day job that requires deadlines and stuff. I am hoping that I could post again more often. So to warm things up, here is a shoe that might entice casual ballers out there: The Adidas Commander TD Low 4.
The Adidas Commander TD has been worn by Tim Duncan during the past years and the shoe's look really captures Duncan's style of play which is basic and not too flashy but gets the job done. The Adidas Commander TD Low 4 still has the simple and clean look which is a plus for casual ballers who don't want to attract too much attention with their kicks. Don't get fooled by looks though, its basic setup can work well especially if the wearer has good basketball fundamentals.
You can grab a pair of these at
Toby's Sports
for P3495 so it's definitely a good deal if you ask me.
Photos are from
Toby's Sports Facebook page
.